Taking care of pearls is not difficult! When cared for and stored properly, pearls will retain their luster and nacre for a long time. To preserve the beauty of your pearls, just follow a few simple steps to maintain them regularly and be careful how you store them.
Wearing Your Pearls
Surprisingly, one of the best ways to care for your pearls is to wear them often. Pearls were born in the water and benefit from absorbing the moisture and oils that your skin naturally secretes throughout the day to keep their natural luster. So, go ahead, put them on and show them you care.
Follow the "Last On, First Off" Rule
Treat your pearls as a finishing touch. A good rule of thumb to keep your pearls clean and unscratched is to put them on as the last final touch to your outfit. Avoid applying makeup, hairspray, lotion or perfume once your pearls are on. Chemicals found in hairspray, cosmetics and perfume and can leave a cultured pearl dull, pitted or eat away at the nacre.
Before undressing, remove your pearls. Also, remove pearls before reapplying any lotion, hairspray, etc.
Wearing Don'ts
Never use your pearls if the stringing material is wet (after the cleaning process). A wet string can stretch and attract dirt. It will be hard to remove it afterward, so wait until the string is completely dry.
Avoid wearing pearls with clothes made of rough fabrics. They may cause scratches.
Do not submerge your pearls in water. Never wear your pearls while showering, swimming, or washing dishes. Chlorine will eat away at any epoxy securing the pearls to their mountings. Soaking the stringing silk causes it to stretch out and break early.
Remove pearls before exercising to keep them away from perspiration that contains acids pearls don't like.
Keep pearls away from cleansers and detergents that contain chemicals like ammonia and chlorine that can damage cultured pearls.
Daily Care for Your Pearls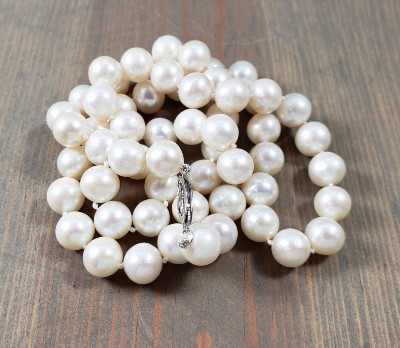 After every wear, wipe down your pearls with a soft, clean cloth. This will help prevent any buildup of oils, makeup, perfume or perspiration that may have come in contact with your jewelry throughout the day. Simply wipe with a soft cloth, microfiber jewelry cloth or chamois to remove any skin oils or dirt. Occasionally (only as needed) use a clean damp cloth and give your pearls a very thorough wipe down. Gently rub each pearl to remove surface debris that may accumulate, such as dust, perfume and makeup.
If you forget to wipe your pearls clean after wearing them, make sure to do so before storing them again.
How to Clean Your Pearls
Particularly dirty pearls may be cleaned on occasion with mild solution of 1 teaspoon of Woolite (or mild dish soap) diluted in 1 quart of water. Dip a soft cleaning cloth in the solution and wipe the pearls. Clean the clasp as well. Do not submerge a pearl necklace in water, as it will weaken the silk thread.
Let your pearls dry flat on a soft dry cloth all the way before storing. This helps preserve the elasticity of the silk strand. Silk shrinks as it dries, but hanging the strand while wet will cause the silk to stretch. Be sure to completely dry the pearl strand to avoid thread deterioration.
Pearl Cleaning Don'ts
Don't use abrasive cleaners on your freshwater pearls or rub any of your freshwater pearl jewelry with an abrasive cloth. This will rub and scratch the pearl, leaving it lackluster.
Do not use lemon, baking soda, vinegar, ammonia, chlorine, bleach, acetone, alcohol, industrial cleaning liquids or chemical cleaners to clean your pearls.
Don't try to speed up the drying process with a hair dryer or any kind of induced heat.
Do not hang your necklaces or bracelets in order to let them dry. Keep them on a flat surface.
Don't put any of your freshwater pearl jewelry in ultrasonic or steam cleaners. It will damage the outer layer of the pearls.
How to Store Your Pearls
Freshwater pearls are delicate and will easily scratch if stored next to other jewelry. Store your pearls away from other objects or jewelry that may scratch their surfaces. Store them in a soft pouch (not plastic) to prevent them from drying out or sustaining any nacre damage. The pouch will also keep other hard jewelry from damaging or gouging delicate pearls.
Let your pearls breathe. Avoid storing pearl jewelry in a safe or safety deposit box. Bank safes are humidity free and over time this dry environment can cause your pearls to crack. If the environment is too dry, the pearls may crack. If placing the pearls in a safety deposit box or in a hot environment, leave a damp cloth nearby, and try to get them out of there as quickly as you can.
Do not hang your pearls to store. Store pearl necklaces flat to prevent them from stretching. Hanging places unnecessary strain on the silk and stretches out the necklace.
Fasten the claps and pins to avoid tangles.
When traveling, you should also take care of your pearls. Carry them in a protective fabric pouch.
Restringing
If you wear your pearls frequently, you may consider restringing and re-knotting every two to three years or once a year if you wear them weekly. Knotting gives your piece more durability and security and adds a beautiful drape. If you are restringing and re-knotting, I may be able to help. Just contact me.
Find the Perfect Strand
I'm always on the lookout for good quality, affordable freshwater pearls. I have a small but constantly changing selection of hand knotted pearl necklaces and bracelets. If you don't see something that is right for you, just contact me. I'm sure I can create your perfect strand.